Your Virtual Conference
Professional organization of events and virtual conferences.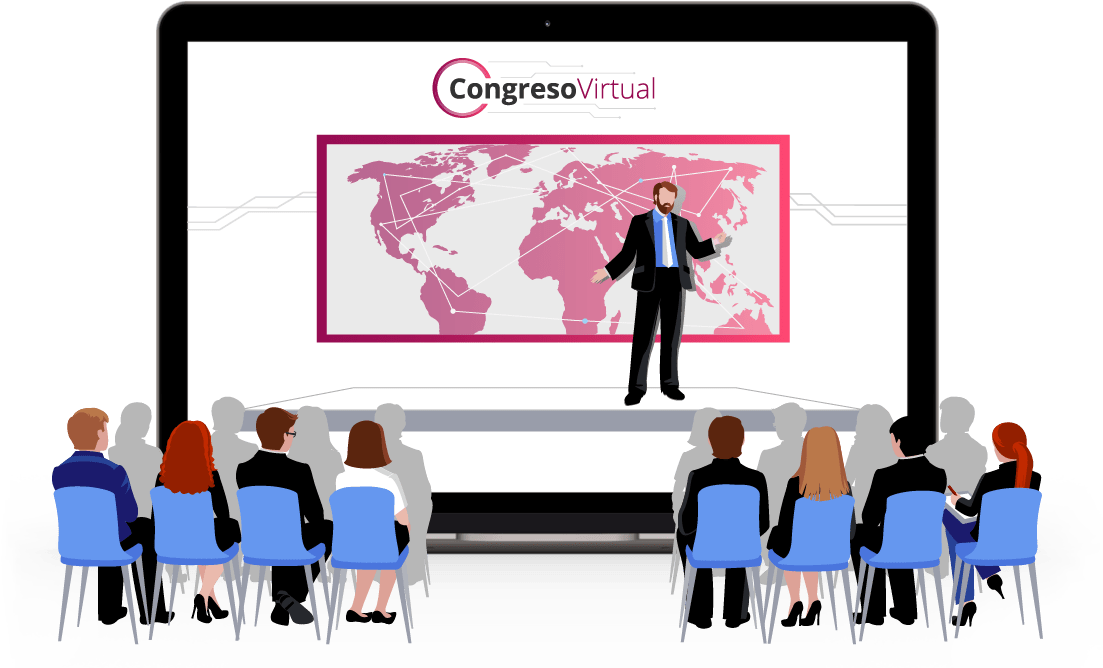 The best "all-in-one" solution for your online and hybrid conferences.
Your Virtual Conference is the ultimate "all-in-one" solution for the organization of virtual and hybrid conferences and events. Enter the online world and connect with a global audience!
Why holding a virtual conference?
It is easy to use as well as customizable to make your conference an absolute success.
Why choosing our online conference platform?
We are a leading company in the professional organization of congresses. Our 30 years' experience is reflected in more than 200 successful events.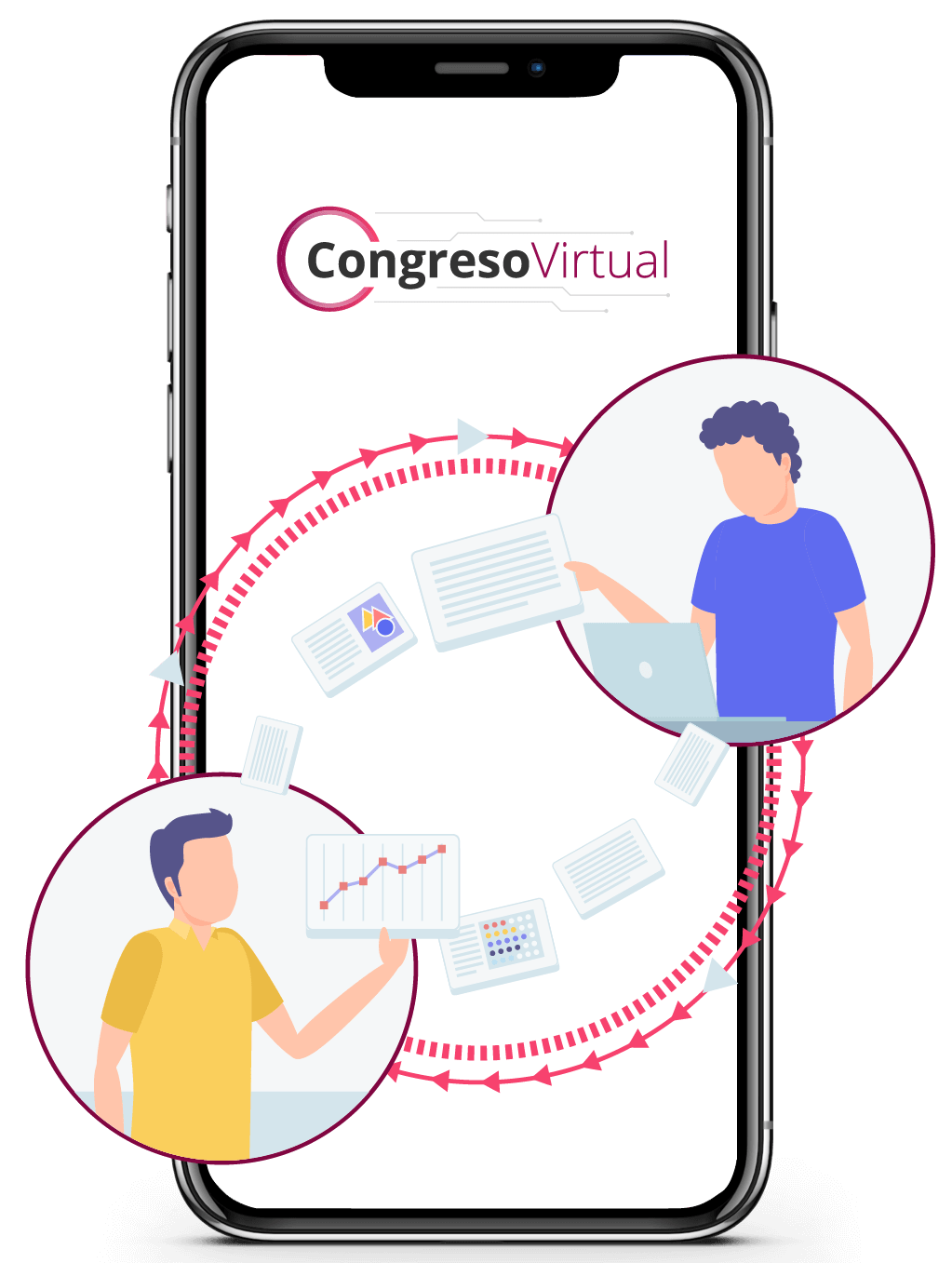 How does the platform work?
We take care of the creation of the congress main website, registration forms of the participants, giving access to the private area and broadcasting the contents via streaming.
Conference main website: Identified Access (with user name and password). Access to "Protected" Contents.

Unlimited number of attendants in the congress.

Guests' identity is kept private.

The presentations of your virtual congress are automatically recorded so that they can be further reviewed by your attendants.

Monetize your virtual congress by restricting access only to the participants who have payed for their attendance.

Assistance through support and technical department.
Communications: We create private areas for their reception and revision.

Flyers or oral: Flyers will be delivered in digital format. Oral communications will be delivered in audiovisual format.

Presentations: All the information will be updated, protected and structured for its dissemination during the event.

Forum and colloquium area: Live chat for the participants.

Attendance control for issuing certificates.

Virtual stands and online sponsorship.
Virtual events are a trend An easy way innovate in the sector.
The MICE industry is one of the most important sectors in our country. Every year, a multitude of events, meetings and seminars are held with lecturers and attendants from all around the world. This way, companies and organizations can publicize their latest developments, discuss about issues of interest or share diverse points of view.
Over the past few years, there is a trend that has been gaining ground when talking about events organization: virtual conferences. This format makes it possible to reduce costs and maximize dissemination, thus reaching a wider audience regardless their geographic location.
Nowadays, there are several conventions that, apart from being held in person, offer the possibility of participating online to all those concerned who otherwise would not be able to attend.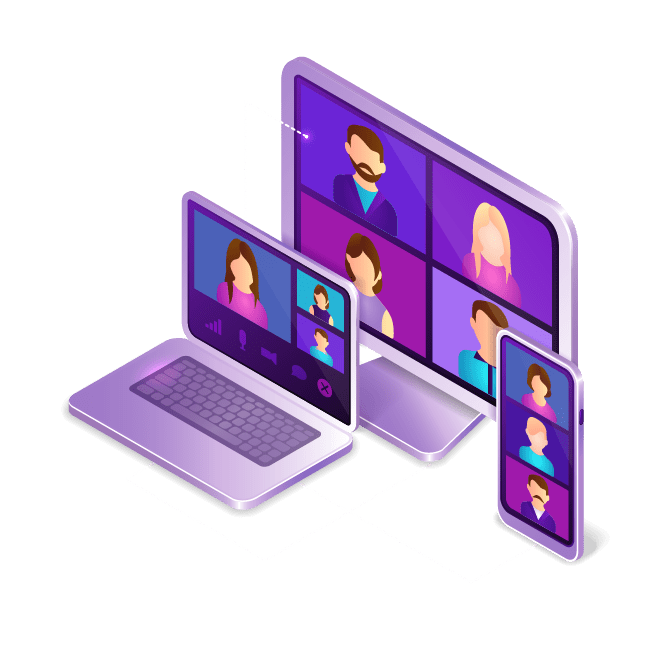 Turn your in-person meeting into a hybrid meeting
Hybrid meeting that combine the in-person part with its broadcasting via streaming are the order of the day.
Thanks to the flexibility and customization of our platform, you will be able to turn your in-person event into a hybrid event offering a perfectly integrated experience.
Hybrid conferences are not subject to limitations regarding time and space, thereby offering wider possibilities of dissemination and marketing.
Get the most out of your convention by taking advantage of both the in-person and the virtual world.
And all this without giving up direct contact among participants and thanks to the reinforcement of commercial relations derived from networking and one-on-one communication.
Offer your participants an original and unique experience.
Democratize your event by making it more flexible regarding schedule and location.
Position your event at the cutting edge of technology.
What do our clients say about us? Our customers' testimonials are our greatest quality and professionalism guarantee.

In the capacity of President of the XXXI AELF-IF International Congress, held from 28 to 30 June 2018, let me extend to you my personal congratulations, as well as the congratulations from the entire Committee, for your excellent and professional performance during the organization, development and finalization of our convention.

On behalf of the Organizing Committee, we are writing to you and your team in order to thank you for having conducted effectively and successfully the organization of the Internacional Seminar on Applied Geometry in Andalucía from 4 to 8 September 2016 in Granada. This convention would not have been possible without your dedication and effort, as well as without the excellent relationship that has been maintained during all this time.
o.

I am pleased to extend to you, on behalf of the Organizing Committee and on my own behalf, our deepest appreciation for the extraordinary and professional efforts offered by your team during the 9th International Symposium on Rock Fragmentation by Blasting, held in Granada. I appreciate the high technical level that was reached through the works made under your management, which contributed to the enhancement of all the programmed events.
Contact now for further information Please, complete the form below and we will answer you as soon as possible. No-strings-attached consultation.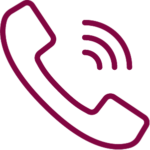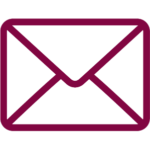 eurocongres@eurocongres.es